Providing GIS, IT and Engineering Solutions for Water, Sewer, Stormwater and Solid Waste Industries – for 30+ years
DCSE is an Engineering and Geographic Information System (GIS) consulting firm specializing in the development of solutions for local, state and federal agencies, as well as private utility companies that work with wet utilities and solid waste. DCSE also looks forward to stewarding leadership in GIS Consulting – specifically as they are related to water, sewer, stormwater, electrical, gas and cadastral management.
DCSE was founded in 1989 in Southern California and is comprised of professional water, wastewater, environmental, mechanical and chemical engineers, project managers, GIS analysts, and software engineers with many years of experience in developing large-scale information management systems.
DCSE's comprehensive scope of experience and expertise includes the following:
Deep industry knowledge of water and wastewater agency processes and business requirements
Environmental reporting and information capture for remediation and compliance projects, related to EPA regulations
Remote sensing and satellite imagery analysis with application to water use and agricultural practices.
Water distribution, sewer collection system, and groundwater data collection and management
In-depth knowledge of the building, calibrating, and running of hydraulic computer network models
The integration of GIS with other systems such as CIS, CMMS, and Document Management Systems
The application development experience in all tools – including ArcGIS Desktop/Pro, ArcGIS Server, ArcSDE, 3-D Modeling, FME, SQL Server Spatial, Oracle Spatial, Python, Microsoft .NET
The implementation of mobile applications
EXPERIENCE & EXPERTISE – ESRI
Since our inception, DCSE has been working with ESRI's ArcGIS Technologies and was awarded ESRI's Foundation Partner of the Year in 2006. Since then, DCSE has achieved the following Esri Accolades shown below:
Esri Silver Partner – DCSE joined the Esri partnership program over 22 years ago
Holder of the ArcGIS Utility Specialty – Utility Network is a new water and wastewater data management platform promoted by Esri

Partner Award Recipient for Utility Network Implementation at the 2022 Esri Infrastructure Management and GIS (IMGIS) Conference
Holder of the ArcGIS System Ready Specialty
Holder of ArcGIS Market Place Provider awards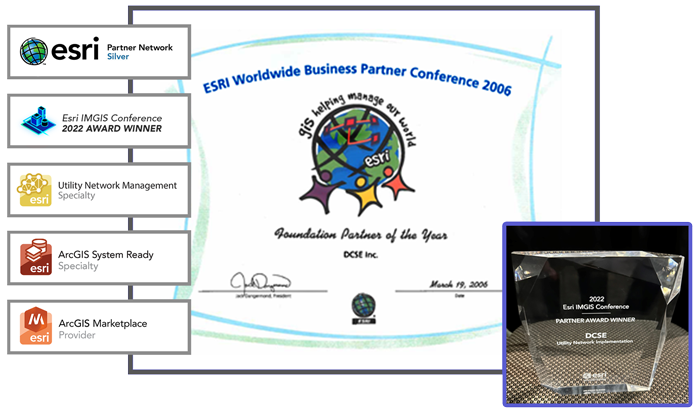 Elsinore Valley Municipal Water District Pilots ArcGIS Utility Network for Its Sewer System [Elsinore Valley Municipal Water District]
GIS-Enabled Mobile Solution Improves Sewer Line Cleaning Efficiency [San Bernardino Municipal Water Department]

DCSE Inc.
23461 S. Pointe Drive
Suite 300
Laguna Hills, CA 92653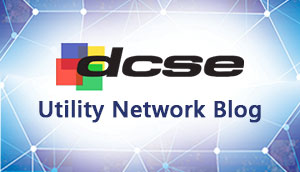 © 2023 DCSE Inc. All Rights Reserved